Neurotech Press Books and E-Books
Neurotech Press currently publishes quality paperback books and e-books devoted to neurotechnology. Our paperback books are available through Amazon and our e-books are available through the Kindle and Apple iBooks stores. New titles are planned for release in 2019.
Our paperback books and e-books offer an opportunity for vendors of neurotechnology products and services to promote their technology, customers, and success stories in chapters in new titles, or in customized inserts in our existing titles. Contact Neurotech Press at 415 546 1259 for more information.
---
On My Feet Again: My Journey Out of the Wheelchair Using Neurotechnology
by Jennifer French (Neurotech Press, 2012) $19.95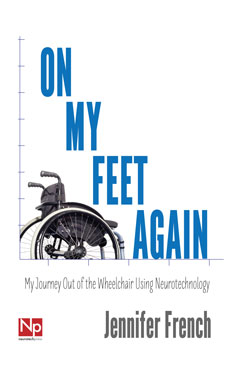 On My Feet Again is the heartwarming and intellectually stimulating story of how a determined and resourceful woman overcame many of the obstacles that came her way after being paralyzed in a snowboarding accident. Although told she would never get out of a wheelchair, Jennifer French refused to accept that fate and sought out experimental new technologies for people with spinal cord injuries. She became a participant in a clinical trial of an implanted neuroprosthetic system. Along the way, she helped advance the technology by working with the research team to test new features, push the limited of her strength and endurance, and prove the viability of this new therapy for thousands of other potential recipients - including injured soldiers returning from war.
Bionic Pioneers: Brave Neurotech Users Blaze the Trail to New Therapies
by Jennifer French and James Cavuoto (Neurotech Press, 2014) $19.95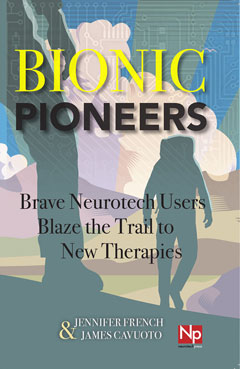 Bionic Pioneers tells the stories of 10 brave individuals with neurological disabilities who made the decision to participate in a clinical trial or become a recipient of a newly approved neurotech device to treat their conditions. These pioneering users not only improved their own quality of life—they helped advance the pace of technological progress that will undoubtedly make life even better for other people suffering from the same condition in the future. In each chapterwe learn the often painful details of how a neurological disorder has impacted someone's life. We also gain insight into how each person came to accept a novel or experimental neurotech therapy and we learn how these marvels of of engineering achieve their effect. Join us as we pay tribute to some of the unsung heroes of medical technology: the users who literally put life and limb on the line to blaze the trails to new therapies.