CMS Payment Decisions Confound Neuromod Vendors
by James Cavuoto, editor
October 2022 issue
Manufacturers of noninvasive neuromodulation systems have experienced their share of ups and downs on the reimbursement front in recent months. While some vendors of wearable headsets and other surface stimulation systems survive on customers who pay out of pocket or on private insurers, most neurotech healthcare firms depend heavily on reimbursement from the Centers for Medicare and Medicaid Services.
Obtaining favorable reimbursement from CMS is a complicated matter and often involves a lengthy submission process with trial data above and beyond what was required for regulatory approval. Several noninvasive neuromodulation vendors, including electroCore, Cala Health, and NeuroSigma, were encouraged by CMS decisions to grant them unique Healthcare Common Procedure Coding System codes specific to their devices and therapeutic approach. For example, Cala Health last year was granted two codes, K1018 and K1019 for its external upper limb tremor stimulator and consumables. electroCore was given code K1020 for its noninvasive vagus nerve stimulator while NeuroSigma got codes K1016 and K1017 for its trigeminal nerve stimulator and supplies. All three firms were pleased that they were not required to use the more generic code E0720 assigned to TENS systems. But their joy was short lived; CMS earlier this year decided that although all three firms had HCPCS codes distinct from TENS devices, they would nonetheless get reimbursed at the same amount, roughly $400 to $450, despite the fact their systems cost upwards of several thousand dollars each.
In a June meeting with the CMS, these and several other affected vendors appealed the payment amounts, pointing out that their systems were considerably different from and more complicated than TENS devices. Some also argued that their devices treated indications other than pain—ADHD in the case of NeuroSigma and essential tremor in Cala's case.
Earlier this month, CMS issued a final decision, rejecting NeuroSigma's and electroCore's appeals for higher payment amounts. But the agency reversed its decision on Cala Health, upping the payment amount to about $3800 for the Cala Trio device. Cala was almost tripped up by the fact that in their patent application, they used the phrase, "Perhaps the technology most closely related to our approach is transcutaneous electrical nerve stimulation." But in the end, CMS seemed to buy the company's argument that its transcutaneous afferent patterned stimulation therapy and its use of an accelerometer and gyroscope, which gather kinematic data, made the system sufficiently distinct from TENS devices.
"This pricing decision from CMS will make it easier for Medicare beneficiaries to access this important therapy to treat essential tremor," said Renee Ryan, Cala CEO. "Appropriate pricing for Cala TAPS therapy is a great step in expanding access and rewarding innovation for clinically proven treatment options outside of pharmacological options or invasive surgery."
Theranica, manufacturer of the Nerivio wearable device for treatment of migraine, was not so lucky. CMS concluded that although the device delivers electrical stimulation to the body, the company's literature says that the life of the device is 18 months. In order to qualify as durable medical equipment and be reimbursed under Medicare part B, a device needs to have an expected life of at least three years. So CMS denied any reimbursement for the device, though it granted the company a unique HCPCS code K1023, "distal transcutaneous electrical nerve stimulator, stimulates peripheral nerves of the upper arm."
Another wearables vendor, Electromedical Products International, also lost its appeal for its Alpha Stim cranial electrical stimulation system, which will continue to be reimbursed at the TENS rate.
Pear Therapeutics, which offers digital health products for treating addiction, also lost its battle for CMS reimbursement. The agency could not accept the concept of software as durable medical equipment, despite the fact that the FDA recently created a category of software as a medical device. CMS did issue them HCPCS code A9291, "prescription digital behavioral therapy," and left open the door that it could be reimbursed under some other Medicare benefit category besides DME in the future.
Also in limbo at this time are two manufacturers of neurorobotic exoskeleton systems, Myomo and ReWalk. CMS said it needed more time to evaluate the issue but said for the time being it would allow MACs to make local coverage decisions.
Publisher's note: Many of the issues covered in this article were discussed in greater detail in a session at the 2022 Neurotech Leaders Forum featuring several reimbursement experts. Paid subscribers to Neurotech Business Report will receive a complimentary copy of the video from that session upon request.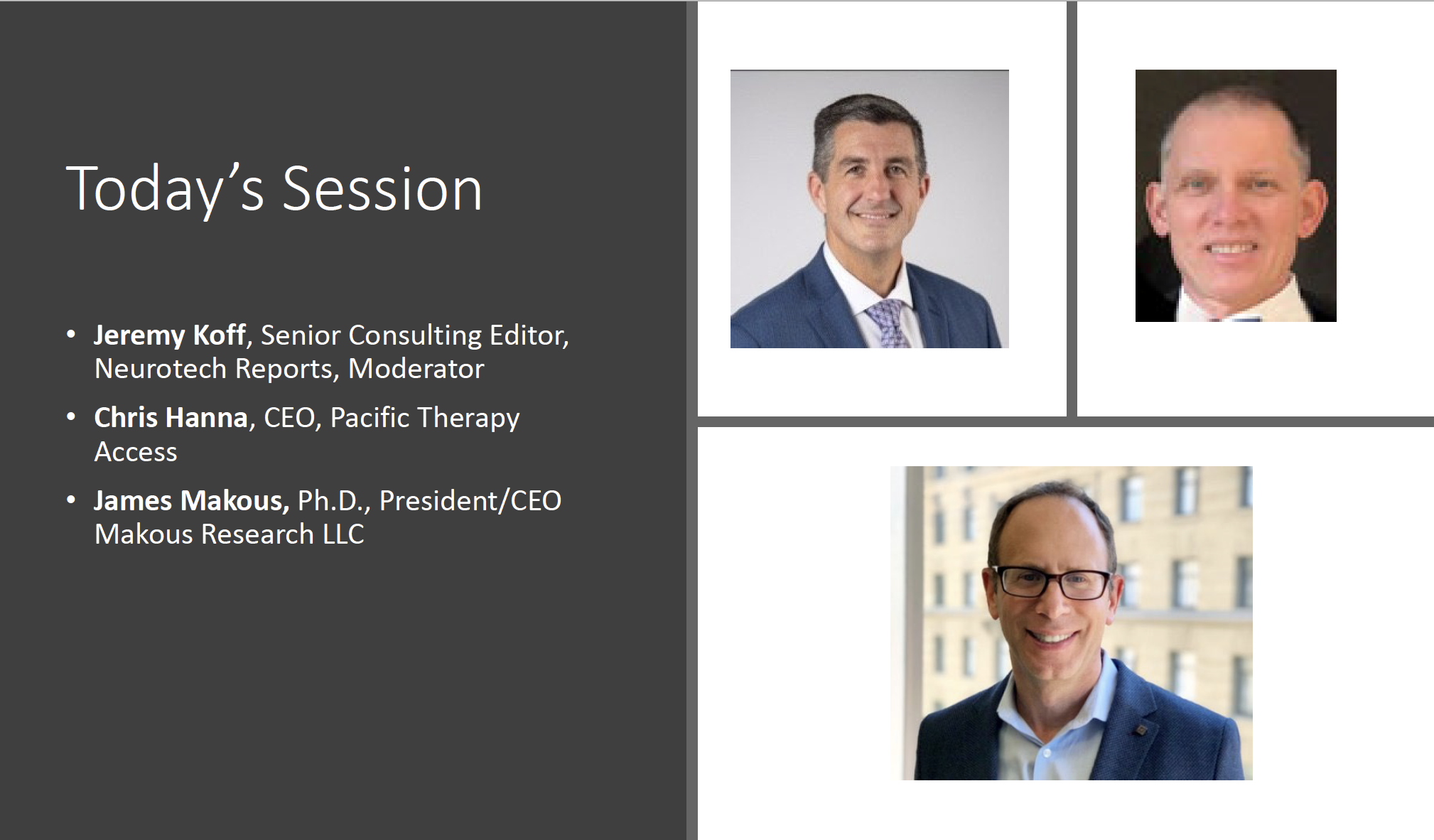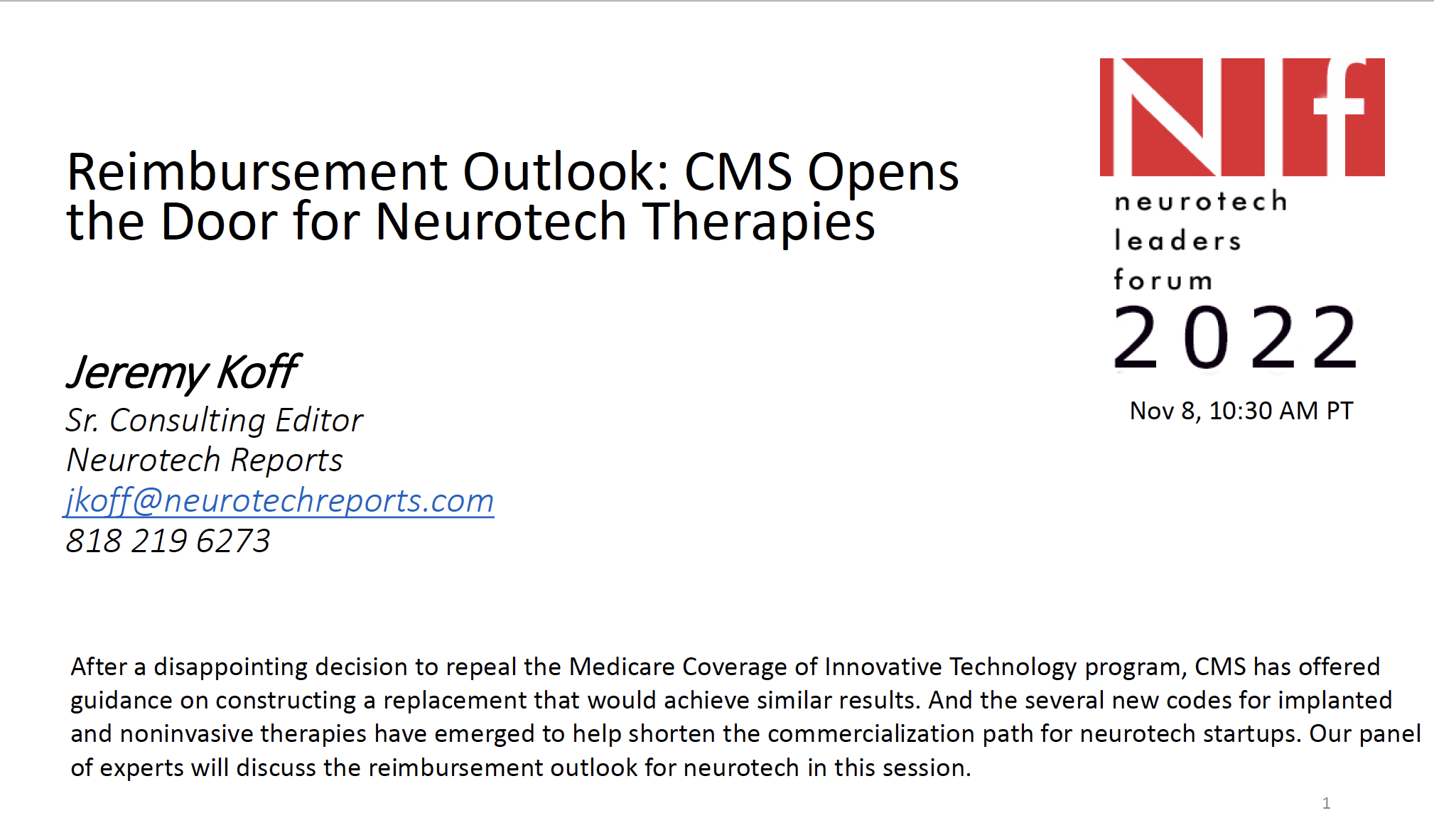 Tweet